When it comes to choosing a ring, it's not all about the gemstones! An important part of your ring's style will come from the setting itself – it can make a huge difference to the look and feel of your ring. Different settings can make a ring feel more modern, more traditional or more delicate… it can be quite daunting to decide! 
So we've put together a simple guide to help you choose the perfect ring setting style for you or your partner. Once you've got a better idea of what you like, head over to our new diamonds site to try out different settings, diamonds and metals. 
Claw (it's all about the stone)
This classic setting is all about projecting the focus of the eye to your stone, letting it sparkle its little heart out!
Claws holding the gemstone in place and allowing lots of light to pass into the stone.
It's ideal for showing off a single stone – as the claw setting elevates the stone and there's nothing else going on to distract from it – so it's a very popular option for solitaire (single stone) rings and engagement rings in particular. The famous 'Tiffany' setting, arguably the world's most famous engagement ring setting, uses 6 subtle claws to hold the diamond above the band and into the light.
You'll most commonly find 4 or 6 claws, but we've designed claw settings in a huge range of styles too, from simple claws clasping beautiful pear-shaped gemstones to dramatic cathedral style arches. These more intricate versions of the claw setting are a great way of adding detail and personality to a ring without adding further gemstones, either for cost reasons or because you don't want to take attention away from the feature gemstone.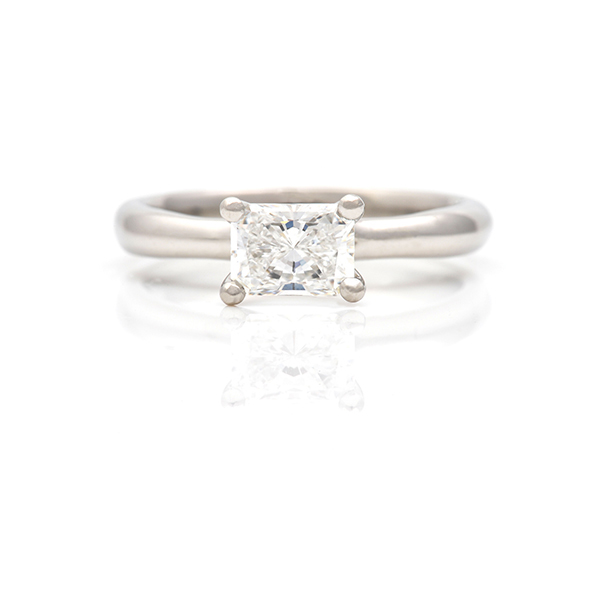 Bezel (boom boom it's in the room!)
This modern ring setting encircles the gemstone(s) all the way around, so it's smoothly and securely held in place. It's great for those who want a more contemporary look and feel.
Halo (surrounded by sparkle)
In this setting, the main gemstone is surrounded by smaller stones that form a 'halo' of sparkle. The halo can be a great option to boost the sparkle of a smaller stone and can be striking when used with multiple gemstones – such as surrounding a coloured gemstone with smaller diamonds, or vice versa.
But what's the difference between a halo and a cluster? Well, with a halo, the centre stone setting is seemingly independent of the surround – there's a little gap between the two. In a cluster, there's no gap!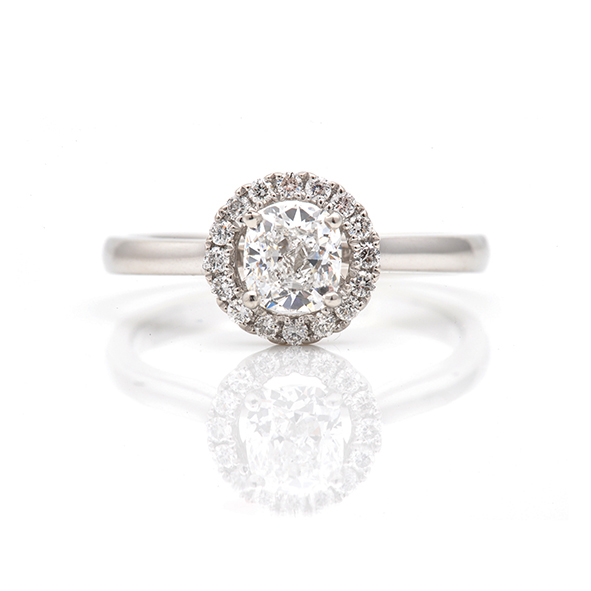 Channel (a whisper of light)
The channel setting looks a lot like it sounds – gemstones are set into a 'channel' or groove within the band of the ring, held in place by the sides of the channel. As there are no claws, you can sometimes see small gaps between the gemstones (if they're round, for example) which gives the impression that they're almost 'floating' within the band.
The channel setting can be used on its own for eternity and half-eternity rings or wedding bands, as well as adding sparkle either side of a feature gemstone (like in this image, where they surround a bevel-set feature gemstone).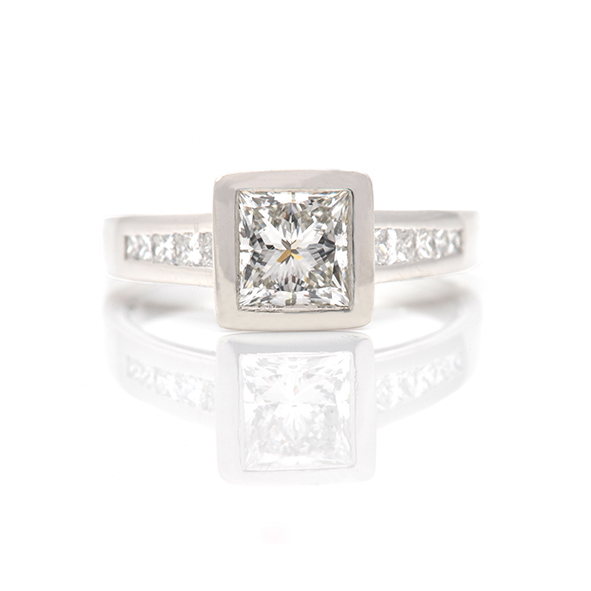 Grain (tiny claws for a vintage feel)
The grain setting may look similar to the channel setting at first glance, in that it features lots of gemstones within the band of the ring, close together, to offer a line of sparkle. However, the grain setting actually uses tiny claws (or beads) to hold the gems in place, giving a more vintage look and feel.
Take a look at the difference here between the channel setting on the left of this buckle ring, and the grain setting on the curved centre and right hand side.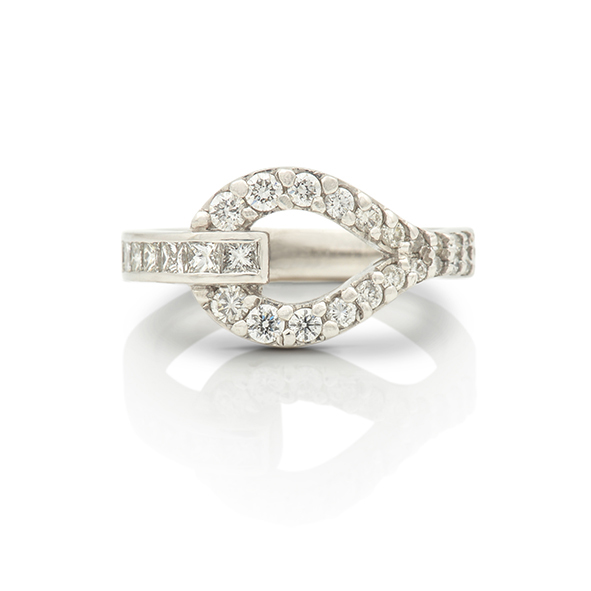 Tension (is it a trick of the eye?)
The tension setting is modern, striking and incredibly precise – the gemstone is held in place by the tension created between the two sides of the band, so appears suspended in place. Because of the need for absolute accuracy, the tension setting can be expensive as more metal is needed to hold the stone, therefore this design create a contemporary look with clean lines. This style is about the ring – it makes a statement.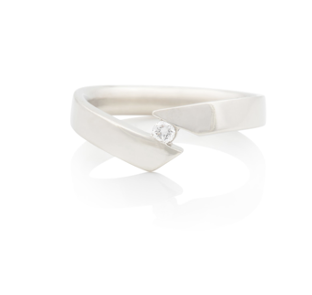 If you like a bit of bling then you'll love the continuous sparkle that the pavé setting gives. Lots of small gemstones are placed very close together within the band, creating a really sparkly effect.
Remember that you don't need to stick to just one setting – we love designing rings that combine elements of different setting styles to make something truly unique. Take a look at our jewellery inspiration gallery for more ideas, or head over to our new diamonds site armed with your new knowledge and play around with different settings, diamonds and metals! 
How to choose what's right for you
Give us a call or book in a Zoom meeting with us and we'll help you understand what you're looking for and send you lots of helpful examples to get you started. If you're looking for a ring for your partner, take inspiration from their current jewellery and their general style!
Overwhelmed by the choices? We're here to help! We're a friendly and experienced team who just love turning our customers' jewellery dreams into reality through unique and original designs. Get in touch if you have any questions at all!